Motivational Keynote Speaker Bob Wieland's Life Journey Challenges Your Group to Perform like Champions!
Motivational keynote speaker Bob Wieland's life journey challenges your group to perform like champions.

When planning a meeting, you want to give your best effort to hire a speaker that can generate that excitement.
But in difficult economic times your business needs more than just another speaker with high energy!
You also want:

 A speaker who doesn't talk from borrowed experiences, rather from PERSONAL REAL-LIFE ENCOUNTERS!

A motivational speaker with a unique message TAILORED FOR YOUR GROUP!

 A message that stirs your members to PURSUE CHANGE, even before they've left the meeting!
Bob Wieland is  a top keynote speaker that delivers! His unique life-journey has been an inspiration for over 45 years; motivating businesses, sports teams and many other groups. He has a powerful message that causes the champion spirit to rise up in all of us!
Bob has received standing ovations while sharing platforms with other recognized motivational business speakers in the industry!
Bob always says that "if you want to make champions, it takes a champion to breed champions." He doesn't say that boastfully, but matter of fact! He has purposely challenged himself to take a course never before traveled and through the journey he has been on the champion's platform many times!
Although Bob lost both of his legs to a landmine in Vietnam; he says "I DIDN'T LOSE MY HEART!" Bob is not just a survivor, but a record breaker in more ways than one. He has achieved things that most other keynote speakers only talk about.
Bob's charisma and style will make you dream bigger dreams and keep you on the edge of your seat as he shares his inspiration with compassion and humor.
Just a few of his many unparalleled accomplishments include being the only double amputee "Strength and Motivation Coach" of the NFL Green Bay Packers… Literally Walking across America on his arms and he is also a three-time world record breaker in the bench press.
Bob has truly experienced a very unique life-journey. No wonder People Magazine honored him as one of the "SIX MOST AMAZING AMERICANS" in the last 20 years!
Bob's life experience is a treasure-chest of motivational lessons. You will walk alongside him and "breath in his journey" as he shares precious moments of contagious victory! It will make your members walk out of your meeting with the spirit of a champion looking for something to conquer!
Bob always says, "everybody can use a little bit of inspiration!"
How Important Is Inspiration to Your Business?
Bob's message lead one man to start an organization that is now successfully represented all across the world. IT WAS INSPIRED FROM ONE MESSAGE!
When you're planning a meeting,  you want your keynote speaker to have THIS kind of potential that leads your people to move to action!
Make the decision now to invite Bob for your next meeting. Just go to the "Contact Us" or "Book Bob" page for immediate response and information on how to get Bob at your event.
If you're looking to hire a motivational business speaker in Houston, Texas , the United States or around the world, invite Bob and expect your group to be motivated and challenged to perform at a higher level and with greater passion! It will be a night that marks your group for a lifetime!
"Mr. Inspiration" specializes in the following types of events:
Corporate Conventions
Educational Conferences
Personal Development
Career Advancement
Sales and Leadership
Health and Fitness
Patriotic Celebrations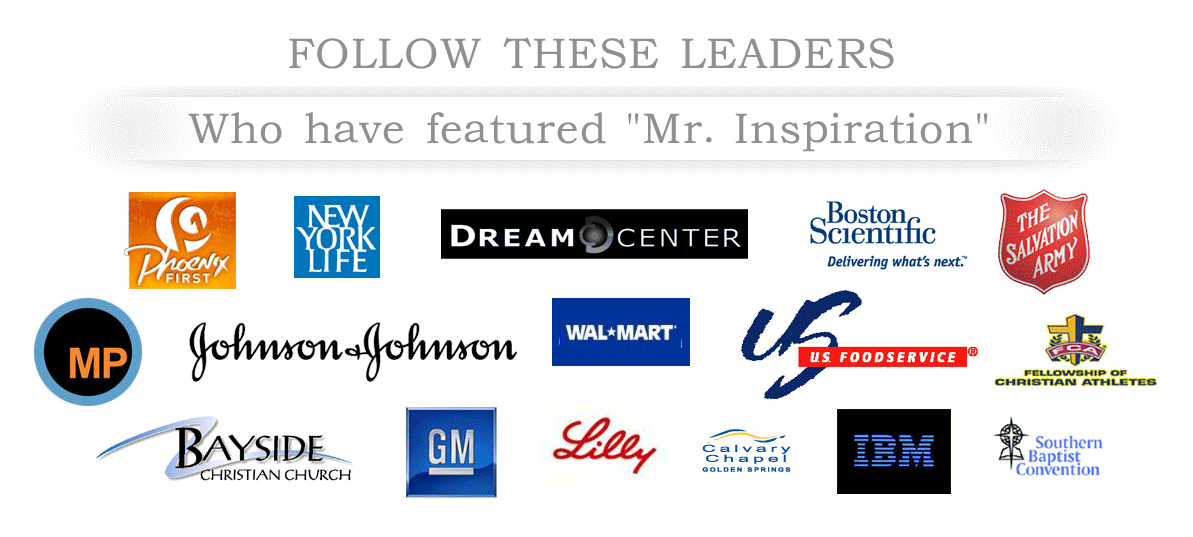 Testimonies
"Bob Wieland is battle tested and battle proven. He's the real deal. If you've never heard Bob's life story, you are truly missing out. He is one of the toughest and gentlest men you'll ever meet. He is the epitome of meekness!"www.sammymaloof.com 

Sammy Maloof, Hollywood Stuntman, Speaker & Author,

"We didn't want to just bring someone in who has a good message, but someone who has lived it and done it.... He had the perfect message for our team."

Fresno State Head Football Coach Tim Deruyter,

"A truly great American. He gives 110%."

NFL coach George Allen,

"In my opinion, Bob Wieland is the comeback kid of all time!"

Pastor Tommy Barnett – Phoenix First Assembly,

"Truly Bob Wieland is an inspiration for us all."

United States President Ronald Reagan,
Prev
Next
Need More info about Bob's Speaking Availability?
Call…
800-690-5994


E-mail…


Info@bobwieland.com