Inspirational Christian Speaker Bob Wieland Takes It One Step Further; That's Why He's Called "Mr. Inspiration". . .
Inspirational Christian speaker Bob Wieland takes it one step further than the rest; that's why he's called Mr. inspiration.
When you're inviting a Christian speaker or church speaker to your event,  it's vital that your speaker provides more than just an emotional high!

There's nothing worse than planning an event and having a speaker that doesn't provide the Divine Inspiration your group needs!
There are other elements that are important to your event, but ultimately, you deserve divine inspiration by hearing the word of God from your speaker!
If you want real inspiration it comes from the heart through Divine Influence and communicates living revelation!
Bob Wieland's extraordinary journey through life has anointed him with the ability to do exactly that!
Many inspirational Christian speakers will share how they have overcome extreme challenges in life. But Bob has gone a step further, he has purposely placed challenges in his way, so he could conquer them!
With his devotion to his SAVIOR JESUS CHRIST and the myriad of challenges and victories he has experienced; Bob has a special gift to share an inspirational message that has been changing the course of people's lives!
For Example: Through one message, Bob's influence inspired one man to start a ministry that has multiplied all over the world!
Bob's real-life experiences will challenge your audience to "walk in divine inspiration" and be aware of the potential they have to offer the world!
Bob knows how important the speaker is to your meeting or conference. He will work with you to:

Provide a divinely inspired message bathed in prayer with your ministry or church in mind.

Provide life-changing personal experiences that minister to the heart.

Provide a spirit-felt message that can empower your people to EXPERIENCE CHANGE!
What Makes Bob's Message Different?
There are few stories quite like Bob's!
He has faced and conquered challenges that no other person has ever experienced or attempted!… and it almost ended before it began…
On June 14, 1969, Bob Wieland entered a combat hospital in a body bag and was pronounced DOA- Dead on Arrival! But today he is very much AOA- Alive on Arrival. All by the grace of Almighty God; and now he has been an inspirational Christian speaker for over 45 years and counting.
He could have given up on life when life almost gave up on him. After having stepped on a landmine in Vietnam he always says "I lost both my legs but I didn't lose my heart!"
Walking across America on his hands is still considered one of the greatest athletic achievements of all time. Bob always professes, Luke 1:37, "For nothing is impossible with God."
To invite Bob for your next motivational Christian speakers meeting, please go to the "Contact Us" or "Booking Bob" page. Then, give Bob Wieland & Team Inspiration a call if you need an immediate response.
If you're an event planner looking for a powerful Christian speaker to be an encouragement to those in your organization, please contact us.
Whether you're an event planner in Houston, Texas or a conference planner around the world, schedule Bob to speak at your next event.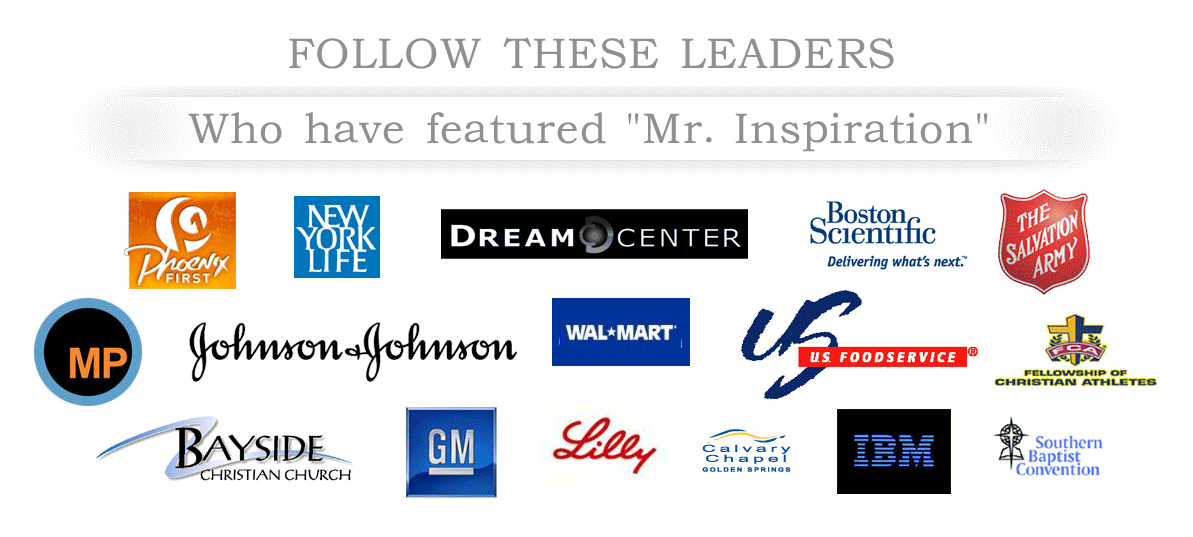 Testimonies
"Bob Wieland is battle tested and battle proven. He's the real deal. If you've never heard Bob's life story, you are truly missing out. He is one of the toughest and gentlest men you'll ever meet. He is the epitome of meekness!"www.sammymaloof.com 

Sammy Maloof, Hollywood Stuntman, Speaker & Author,

"We didn't want to just bring someone in who has a good message, but someone who has lived it and done it.... He had the perfect message for our team."

Fresno State Head Football Coach Tim Deruyter,

"A truly great American. He gives 110%."

NFL coach George Allen,

"In my opinion, Bob Wieland is the comeback kid of all time!"

Pastor Tommy Barnett – Phoenix First Assembly,

"Truly Bob Wieland is an inspiration for us all."

United States President Ronald Reagan,
Prev
Next
Need More info about Bob's Speaking Availability?
Call…
800-690-5994


E-mail…


Info@bobwieland.com