Among the Best Inspirational Sports Speakers: Bob Wieland Is Helping Many to Unleash the Champion within!
Event planners have called inspirational sports speaker  Bob Wieland one of the most amazing motivators for over 45 years!
Bob has been instrumental in helping sports teams and businesses everywhere, to unleash champions through his inspirational messages and extraordinary life.
As an event planner you want nothing less-than the best inspirational speaker for your event; a speaker that can inspire your team for more than just a brief moment; someone that can deliver a keynote message with the potential to make an impact for a lifetime!
Most inspirational speakers have great stories, insightful illustrations and humorous pundits; BUT…

Can their impact go beyond just "Wowing" the crowd? Can they inspire attitude-shifts that SPARK YOUR TEAM TO CHANGE?

Can they address your TEAMS SPECIFIC CHALLENGES?


Can they inspire your team to behave like A CHAMPION IS INSIDE NEEDING TO BREAK OUT?
Bob Wieland has been called on by sports teams,  conference planners, meeting planners and churches to do that for over 45 years.
---
"As a professional sports speaker, I want to deliver a powerful presentation that encourages your team or business to go out the door believing you can defeat Goliath if you have to! " – Bob Wieland
---
"Bob is known as "Mr. Inspiration" because he leaves his audiences impregnated with the desire to go out and be a champion wherever life challenges!
Bob first received the nickname "Mr. Inspiration" after walking across America on his arms. He took a grueling journey from Los Angeles to Washington DC, where he finished with a visit to the Oval Office and Pres. Ronald Reagan.
He has spoken on the same platform with top keynotes like Zig Ziglar, while being applauded with standing ovations!
If your team needs a spark to be lifted out of the "syndrome of mediocrity," and be elevated to championship mentality; let a Champion breathe new life into your people!
What makes Bob a powerful inspirational sports speaker and why should you consider him for your next meeting?
He causes you to reach within your own heart and challenges you to tackle the mountains in your way! And as Bob draws from his true-life experiences, he has a gift of inspiring you to think and act like a champion! Let Bob inspire and motivate your sports team, sales team or church congregation!
Bob has spoken to a wide variety of audiences as a sports guest speaker, at sports clinics, as a team builder, business motivational speaker, inspirational Christian speaker, at churches, conferences, camps, fundraising events, corporate events, and business promotions.
If you need to hire an inspirational sports speaker in Houston, Texas and across the country or around the world, consider Mr. Inspiration for your next event.
See the "Contact Us" or "Book Bob" page for more information.
2016 US Ryder Cup Team
Places Trust in Bob Wieland
For a Spark of Inspiration

NEWS: Bob "Mr. Inspiration" Wieland was called to deliver a special message to the 2016 United States Men's Ryder Cup Golf Team in advance of their ultimate victory over the European Team! See the video below or go directly to Fairways of Life.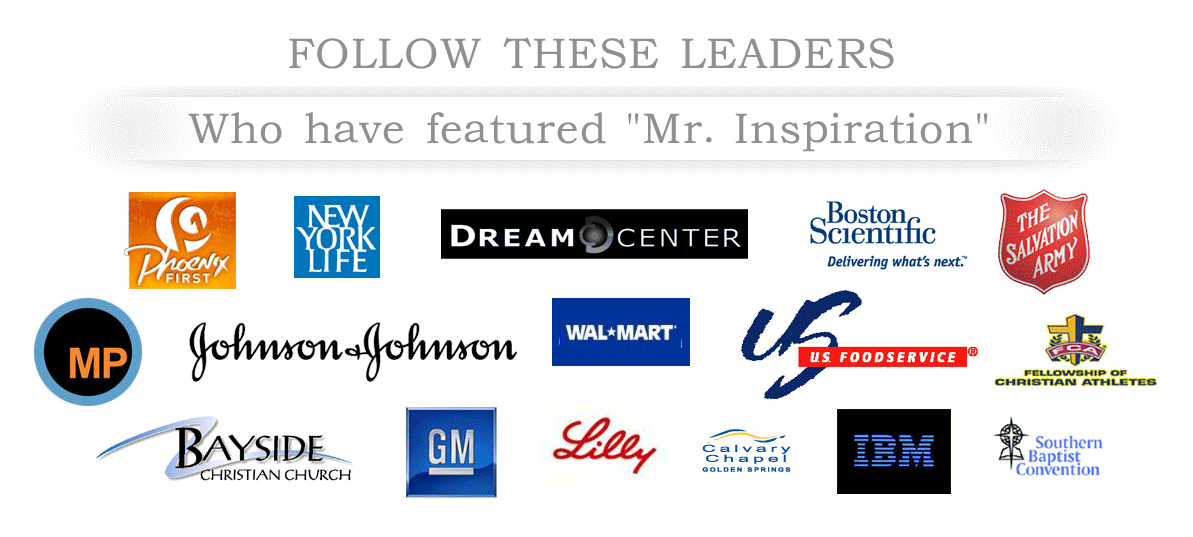 Testimonies
"Bob Wieland is battle tested and battle proven. He's the real deal. If you've never heard Bob's life story, you are truly missing out. He is one of the toughest and gentlest men you'll ever meet. He is the epitome of meekness!"www.sammymaloof.com 

Sammy Maloof, Hollywood Stuntman, Speaker & Author,

"We didn't want to just bring someone in who has a good message, but someone who has lived it and done it.... He had the perfect message for our team."

Fresno State Head Football Coach Tim Deruyter,

"A truly great American. He gives 110%."

NFL coach George Allen,

"In my opinion, Bob Wieland is the comeback kid of all time!"

Pastor Tommy Barnett – Phoenix First Assembly,

"Truly Bob Wieland is an inspiration for us all."

United States President Ronald Reagan,
Prev
Next
Need More info about Bob's Speaking Availability?
Call…
800-690-5994


E-mail…


Info@bobwieland.com